About 280 cars are scrapped in 5 months, know why campaign is strong in Chandigarh?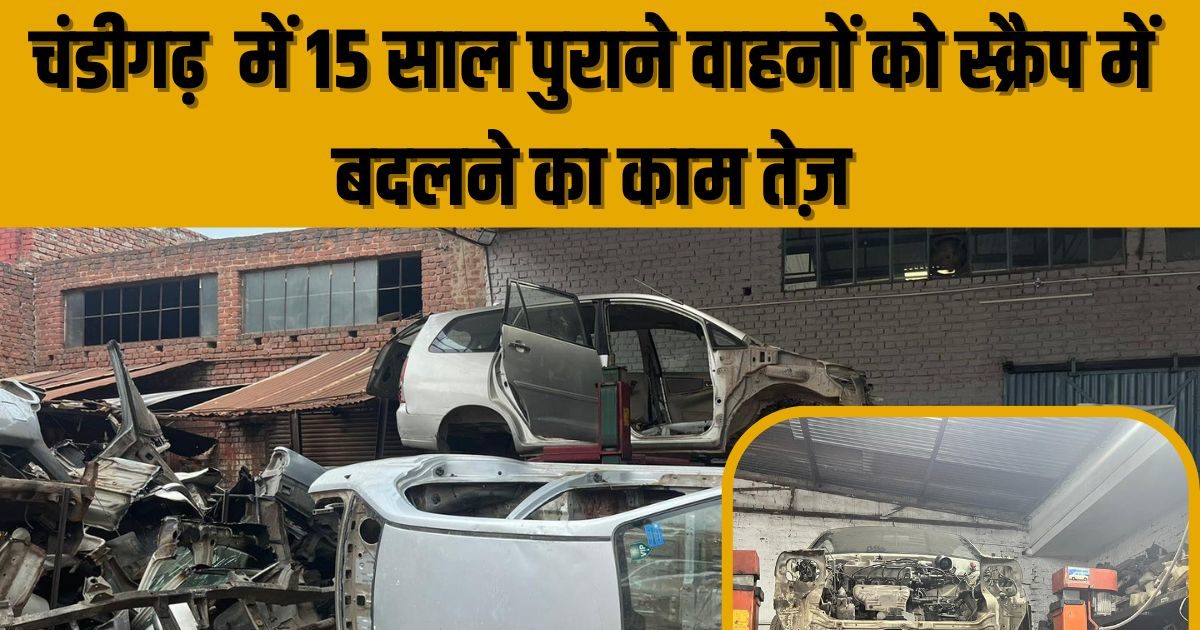 Ankit Dudani/Chandigarh. Constant efforts are being made all over India to maintain the environment and ensure that people get clean air. In this context, the National Vehicle Scrap Policy was launched by the Government of India in April 2022. Under this policy, if your vehicle is more than 15 years old, the government will give you a certificate if it is scrapped. Based on this certificate, you get up to 15 percent tax rebate if you register it within one year of buying a new car. If the vehicle is commercial, a discount of up to 10 percent is available.
Chandigarh is the first city in the country to fully adopt the National Vehicle Scrap Policy Chandigarh administration is taking continuous steps to control pollution. Chandigarh administration is promoting electric and low emission vehicles in the city under the central policy.
Old vehicles are being scrapped
In April 2022, the Government of India implemented a new scrap policy. Under which, 280 vehicles have been scrapped in Chandigarh in about 5 months from April 2023 this year. Out of which 240 are private vehicles and 40 are commercial vehicles. Apart from this, talking about the number of scrapped government vehicles, about 240 vehicles have been scrapped in the last 5 months. The administration is scrapping its obsolete and polluting old government vehicles. Under this, vehicles that have completed 15 years are being scrapped. The administration has taken this decision in view of the notification of the Ministry of Road Transport and Highways.
Certificate is issued after scrapping the vehicle
Information is also available on government vehicles older than 15 years which will be scrapped. So far 98 vehicles have been listed. It also has 8 CTU buses. It has been made optional for common city dwellers whether they want to scrap the old vehicles that have filled their lives. After scrapping these vehicles, the road tax exemption will be given on purchase of new vehicles of the same category. For this COD of the old car has to be produced.
Up to 25 percent discount on road tax
Gopal Krishna, a scrap dealer, said that under the National Vehicle Scrap Policy, the Chandigarh administration is offering a rebate of up to 25 percent on road tax on new vehicle registrations. For this the old car has to be scrapped. The policy states that commercial vehicles older than 15 years and passenger vehicles older than 20 years will be scrapped if they do not pass fitness and emission tests. Gopal Krishna said that the government is also promoting electric cars in the future. Currently, there is only one government registered scrap center in Chandigarh. About 50 cars come for scrap every month. Gopal Krishna gives complete information on how the car is scrapped.
So much total discount will be available
In this policy, there is also provision of motor vehicle tax on submission of COD of old vehicles. This will be given to the vehicle owner under the Registered Vehicle Scrapping Facility (RVSF). A discount of up to 25 percent will be given on non-transport vehicles and up to 15 percent on transport vehicles. This policy has many benefits that reduce the cost of a new car This includes a 5 percent discount offered by the car manufacturer and zero registration fee on the purchase of a new car. Apart from this, the car owner can get a scrap value equal to 4 to 6 percent of the ex-showroom value of the new car. Under the policy, state governments can exempt road tax up to 25 and 15 percent on private and commercial vehicles respectively.