'Being chief minister is not important', says Sachin Pilot – 'Don't ask me…'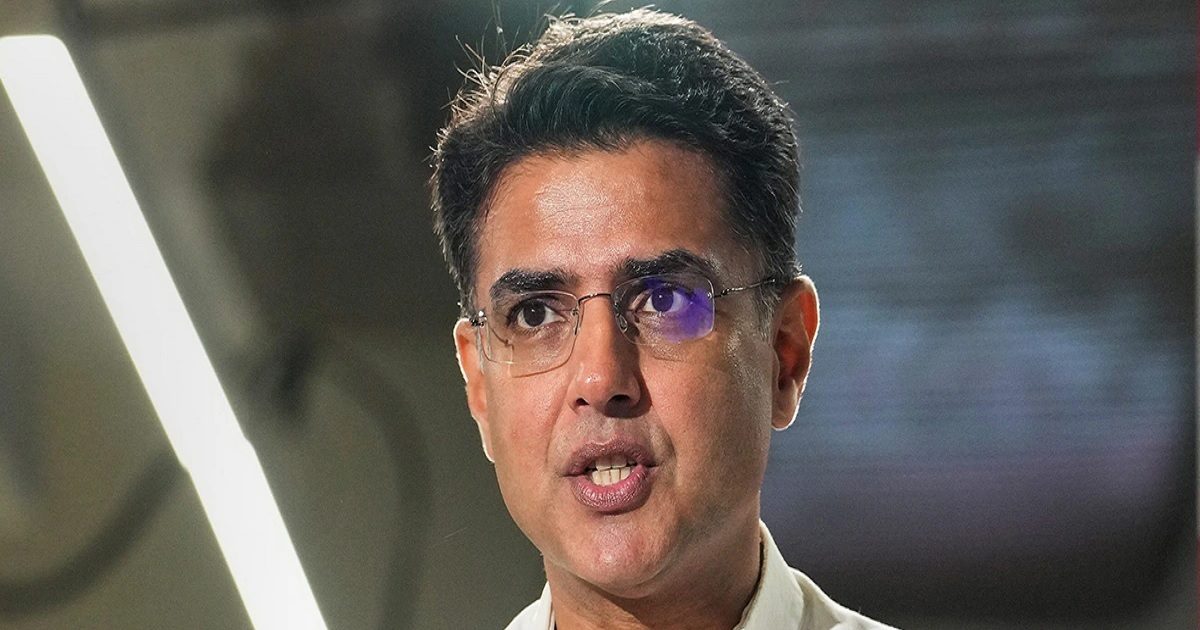 Jaipur. Congress leader Sachin Pilot told News18 in an interview that it is not important for a Congress leader to become the Chief Minister in Rajasthan. Winning the election is his priority. He decried the lack of a joint campaign between him and Chief Minister Ashok Gehlot and said the BJP should respond; Rajasthan's top leaders are "furious". Earlier, Prime Minister Narendra Modi said that in Rajasthan, CM Gehlot and Pilot have only tried to oust each other since 2018. Pilot said the BJP should talk about the confusion going on in the party and bash Bashundhara Raje.
Sachin Pilot said, when it comes to the question of joint campaign, pictures-posters etc. are not important. Pilot said he respects Gehlot who recently gave a "balanced statement". He said it was important for the Congress to win those three or four states where the elections are going to be held so that the party is in a position to defeat the BJP in 2024. Pilot said the BJP was running a "negative campaign" in the state. It is engaged in copying and repackaging Congress schemes.
PM Modi said that Ashok Gehlot and Sachin Pilot have been trying to oust each other for the last 5 years…
Sachin Pilot: (Laughs) I think BJP lacks issues and people have nothing to say What has the BJP government at the center done for Rajasthan in the last 10 years and what is their roadmap for the next 5 years? They are just sitting in the hope that natural change will change the power in Rajasthan and they will reap the benefits of history. Unfortunately for them this is not true. The ground reality is different. Congress performed well in Madhya Pradesh and Chhattisgarh, the two states that went to polls. It is clear from the comments of the BJP top leadership that they have very little to give to the people of Rajasthan, so they only complain, and cannot say what they will do for the people of Rajasthan?
But what PM is saying is not completely false… Was there any rift between you and Ashok Gehlot?
Sachin Pilot: This is completely false. There are some things that I think are important to people. I have raised those issues, the party has considered, a committee has been formed, we have taken corrective steps, the state government has taken action and that is why today we can say that we will come back. Whenever we form a government, we do not return to power. But this time, what we (me and Gehlot) have done together, we have raised the issue of the people of the state and the government has taken action on it, we are in a good position to defeat the anti-incumbency wave.
It is to our credit that we have been able to debate, discuss and find the best way forward for the party, the government and the people of Rajasthan. Unfortunately BJP had absolute majority because they had all the MPs in the state but they did nothing for the state. Even now his campaign is negative campaign. They have no blueprint, they have no 5 year agenda, they are duplicating our plan. His leadership in Rajasthan lacks clarity and even campaigns lack momentum. Why are they bringing people from all over the country to campaign? This is because their state leaders do not have the grip and connection on the ground.
We have not seen you and Gehlot campaigning together; When was the last time you rode a motorcycle? Can such an image be seen again?
Sachin Pilot: We have always campaigned together. Just yesterday, Rahul Gandhi and Ashok Gehlot campaigned together. Kharge, and Priyanka Gandhi…we are all covering different areas of the state. I think if it's just for clicking a picture, you can't prioritize your resources and time. We have only 3 days left, so we have campaigned together, we are working as a team, and all the leadership issues, the future – everything is being decided.
It is the BJP that lacks clarity in all aspects – you see an angry leader in Rajasthan, you see many candidates in Rajasthan trying for that post and campaigning is going on everywhere. People are evaluated on both sides and perceptions.
There is a perception that only Rahul Gandhi brought you and Gehlot together, you two are not alone…
Sachin Pilot: Gehlot gave a very balanced speech, I am also talking about what we have to do in future. This is what we are doing, it is important for the country and Congress needs to be strengthened. If the Congress is strong, the opposition will be strong. Congress will become stronger if it wins state elections. The individual is not as important as the team. The parties form the government, how to form the government if the party is not strong? The issue is a matter of media coverage. Look at our agenda and propaganda – this happened, BJP should present it instead of making a story of what happened.
But there is no clarity on the Congress Chief Minister's face in Rajasthan…
Sachin Pilot: As a party, BJP always announces the face of Chief Minister and Prime Minister. As a party we follow a process where the organization works and gets the mandate and the elected legislators talk to the top leadership and decide who will lead the government. There is no change in our tradition, it is for all state elections. No announcement is made by us before the election, only BJP takes pride in announcing names, why not this time? You must ask them this question.
If Sachin Pilot has only 20-22 MLAs like last 5 years, how can Sachin Pilot become Chief Minister?
Sachin Pilot: Why are you talking about becoming the chief minister? I should ask how to win elections. It is not important for any of us to be chief minister, prime minister etc. In Congress we all won on the basis of handprints. There are no clans, or factions or loyalties. Only the media says so, many take great pleasure in quoting such numbers and calculations. We all passed a one-line resolution in 2018 that whatever the leadership decides, we will follow it. I was one of those MLAs and so was Gehlot. The exact same thing will happen in 2023. This is not an issue for us, it may be new to all of you, the mandate of the people of Rajasthan and winning their votes and trust is important to us. This time we want to break the old trend.
I asked the Chief Minister in an interview and he said how can anyone say he doesn't love you?
Sachin Pilot: He is right, it is true, how can anyone say? We have what we have professionally and personally. And whatever we have to say and talk about, we do with our leaders in Delhi.
So do you respect Gehlot?
Sachin Pilot: We are working together, whoever is older than me, I have always given him full respect, whatever the situation, whatever the complaint or saying, I have never disrespected anyone. This is how I grew up and I will continue to do so.
BJP has strongly raised the Kanhaiya Lal murder case in this election. Also the issue of Hindutva…
Sachin Pilot: BJP will try to make those issues but religion-temple-mosque politics, people don't seem to like. People want to see a development oriented agenda and service delivery. Poll polarization has its limits and people have seen that.
Will Congress' '7 Guarantees' campaign have any impact?
Sachin Pilot: People have liked what we have done in the past and people are appreciating what we want to do. Rich-poor disparity has increased in the country – that's why BJP keeps focusing on emotional issues, temple-mosque issue, but I don't think the youth of India appreciates it.
Don't you think the events of 2020 and 2022 in Rajasthan hurt the party?
Sachin Pilot: In politics we have to see what is in the interest of the people of the state, we have come up with a positive agenda and we have ensured that we take corrective steps so that we win Rajasthan. It is important for us to win these 3-4 states so that we are in a position to defeat the BJP in 2024.
First Published: November 20, 2023, 23:21 IST