Bridge broke again in Bihar! Slab collapsed in rain, affected one and a half lakh people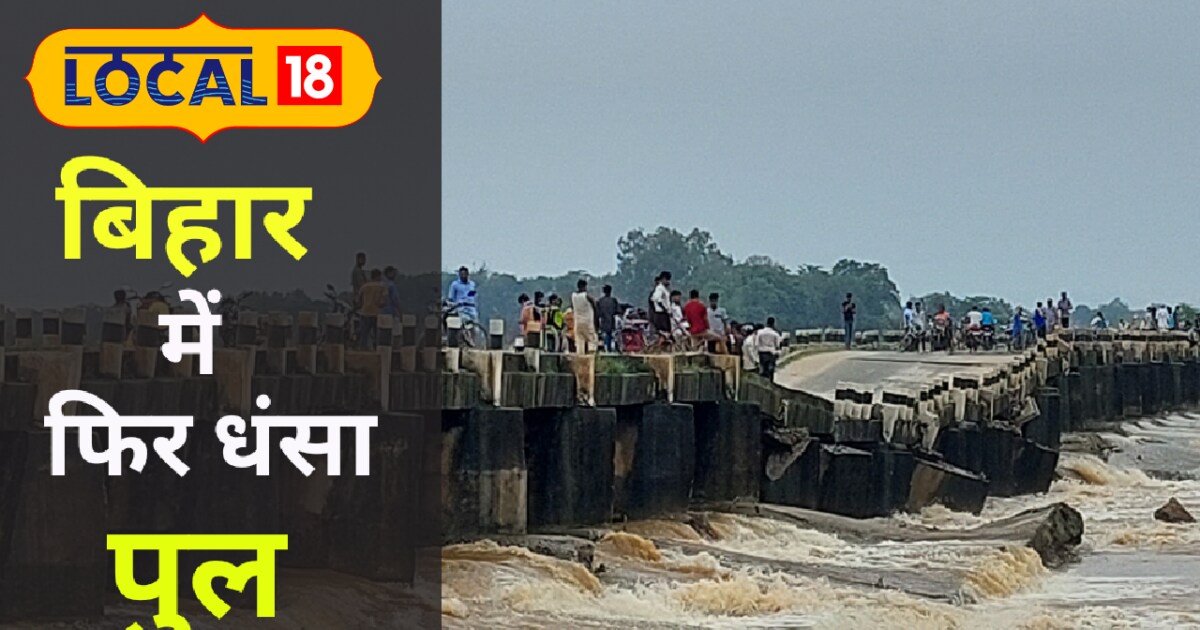 Gulshan Kashyap/Jamui: The process of bridge collapse continues in Bihar. A bridge has also collapsed in Jamui district due to continuous rains for the past two days. Traffic was disrupted soon after. It should be noted that it has been raining continuously in the district for the last two days. Many areas of the district have been inundated after rains and many places have knee-deep water. Meanwhile, a big news is coming from Jamui district that a bridge has collapsed after the rains. Two of its pillars were completely damaged and the slab of the bridge sat on the ground. After this, the communication of the district headquarters with 24 villages in 10 panchayats was severed.
In fact, the bridge over the river on the way from Sono Block Sadar in Jamui District to Churhat collapsed due to rain. The slab between pillar number 7 and pillar number 8 of the bridge has collapsed. Through this bridge, 24 villages in 10 panchayats of Sono block were connected to the main road and more than 1.5 lakh people used to travel through this bridge. Due to the heavy flow of water, cracks started appearing in the pond from Friday and people woke up on Saturday morning to find the bridge collapsed. It was built in 2011. Since then this bridge was becoming a blessing for the people of Naxalite affected areas.
People are traveling risking their lives
After the collapse of the bridge, its slab has not yet fully fallen. People are still traveling through this bridge risking their lives. The villagers informed the administration and the police after receiving the news. After that, the police banned the use of this bridge and barricaded both sides of the bridge to stop the movement of people.
The bridge has been damaged due to heavy traffic
Despite the best efforts of the police, people are risking their lives to travel through this bridge. The river is flowing fast under the bridge. In such a situation, major accidents can happen at any time. Villagers said that people have no other option as the bridge is broken. Due to which people are traveling at the risk of life. Villagers said that the bridge was damaged due to heavy traffic. Then it collapsed due to rain and strong current of water.
,
First Published: September 23, 2023, 19:36 IST