Claim: UP's largest eco-friendly Ganpati statue in Agra!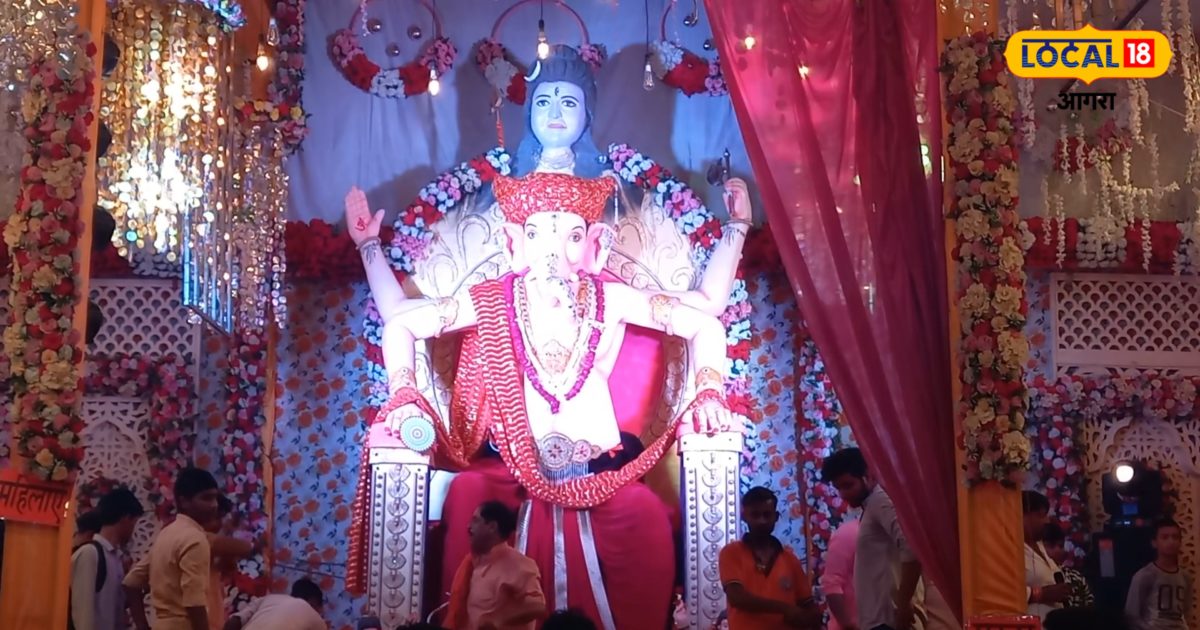 Harikant Sharma/Agra: Ganesha festival is going on in Agra city of Uttar Pradesh. Ganesha is present everywhere. Mangal Murthy Seva Samiti has done the work of installing the biggest idol of Uttar Pradesh in Sadar Bazaar Nowlakha of Agra. The committee claims that there is no 24-feet tall Ganesha statue in Uttar Pradesh so far. Also the size of this idol is increasing every year. When the statue was installed last year, it was 23 feet tall. Which increased by 1 foot to 24 feet this year. The statue is completely eco-friendly.
Organizer Digvijoy Nath Tiwari said, like every year, this year also he has installed a giant Ganapati on the occasion of Ganesh festival. It is claimed that there is no such big idol in the entire Uttar Pradesh. Besides, this idol is completely environment friendly. Mango, jam, jute, peepal, jackfruit and neem seeds are inserted inside this idol. So that when this idol is sacrificed the seeds reach the banks of the river and take the form of trees. Which will also benefit the environment. Every year this idol is installed with the help of cranes and transported in big trucks for dedication. Every year we increase the size of this idol. Last year this statue was 23 feet tall but now it is 24 feet tall.
There is a crowd of fans
Aarti of Lord Siddhivinayak is performed twice a day. Thousands of devotees participate in the Aarti. Morning Aarti is at 8 am and evening Aarti is also at 8:00 pm. The organizing committee people distributed piggy banks to the local residents. Local people collect money in this piggy bank throughout the year. According to Bhakti, after collecting money, when Ganesh festival comes, they offer these piggy banks at the feet of Lord Siddhivinayak. Due to which grand event is organized every year. There are various religious devotional programs every evening.