Do 5 easy ways today on Amla Navami, Goddess Lakshmi will come, awaken sleeping fortune.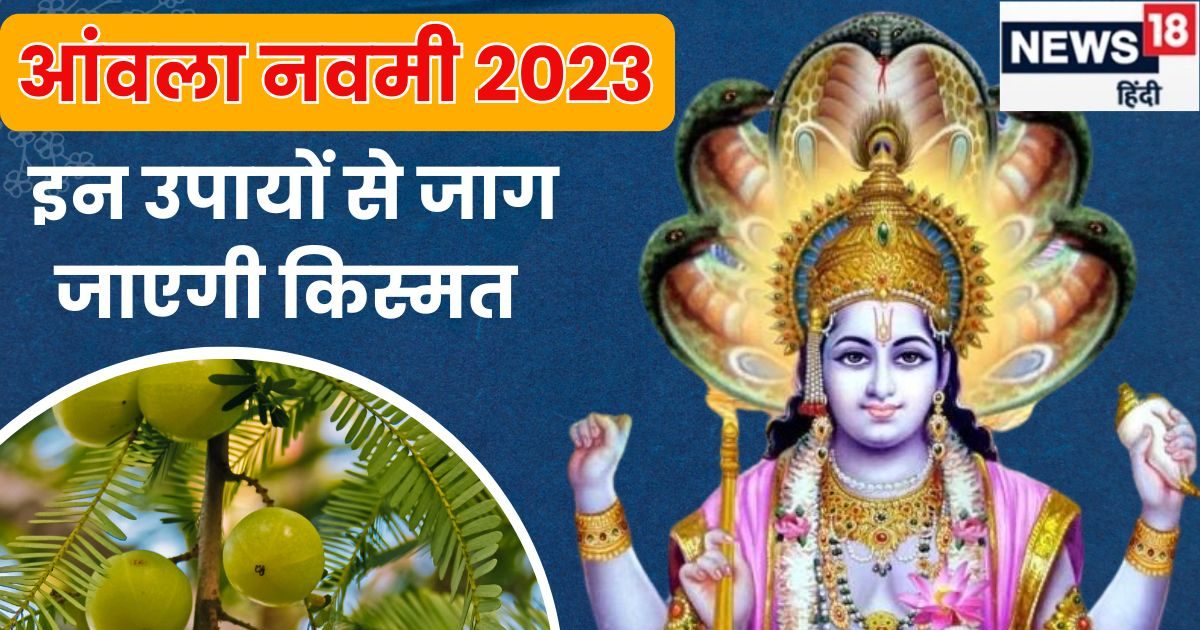 Amla Navami 2023: Amla Navami, which gives the fruit of renewable virtue, is today i.e. 21st November. Amla Navami is celebrated every year on Navami tithi of Shuklapaksha month of Kartika. It is also called Akshaya Navami and Kushmanda Navami. Amla tree and Lord Vishnu are worshiped on this day. It is believed that on the day of Amla Navami, nectar drops from the Amla tree. The fruits of merit and good deeds earned on this day are eternal. A few simple arrangements on this day bring the blessings of Lord Vishnu and Mother Lakshmi. Happy, Goddess Lakshmi comes home, which removes the financial crisis. Come on too Astrologer Pandit Rishikanta Mishra Shastri Let's know about things to do on Amla Navami-
5 miraculous remedies to be done on Amla Navami
Offers Amla (Indian Gooseberry): Amla Navami is a special day to brighten your fortune. Worshiping Lord Vishnu on this day also gets the blessings of Lakshmi. Today, during puja, offer amla (Indian gooseberry) to Lord Vishnu. Also donate Amla to any poor Brahmin. This will please Lord Vishnu and Mother Lakshmi and they will bless you.
Feeding the needy: Lord Vishnu should be worshiped as per custom on Amla Navami day. Then spread a seat under the amla tree and feed a poor person. After that you should have dinner with your entire family. Doing this remedy gets the blessings of Goddess Lakshmi. Wealth increases by his grace. Apart from this, the poverty of the house is removed.
Plant amla tree at home: Amla tree should be planted at home on the day of Amla Navami. This removes the defects of the house. Also, positivity increases at home. Shri Hari is believed to reside in Amla tree. So Amla Puja is performed on Akshaya Navami. Be sure to keep the direction in mind while installing it at home. Astrologers consider it very auspicious to place it in the north or east side of the house.
Also Read: Chhat Puja 2023: What to do with soup after Chhat Puja? You are not doing wrong, know the right thing from Panditji.

Sitting under Amla tree: According to belief, on Amla Day, which yields eternal virtue, the Amla tree oozes nectar. To get its benefits, one should spend time under Amla tree with family members on Amla Navami i.e. Akshay Navami. Offer milk and water at the base of the amla tree. By doing this you will get excellent health benefits. Also, there will be happiness and peace in the family.
Read more: Is it very auspicious to wear this metal bangle on the hand? Dosh will be removed from the horoscope, wealth will be gained, know which day to wear.

Offer Kesari Kheer: Lord Vishnu is worshiped on Akshay Navami i.e. Amla Navami. On this day you should also worship Lakshmi and give her saffron kheer. Then feed this prasad to the family members. This will please Goddess Lakshmi and remove financial problems from your home. In addition to this, wealth will increase in the house.
First Published: November 21, 2023, 02:41 IST