National Poet Ramdhari Singh Dinkar Jayanti Special – 'Samar Lakh Hai'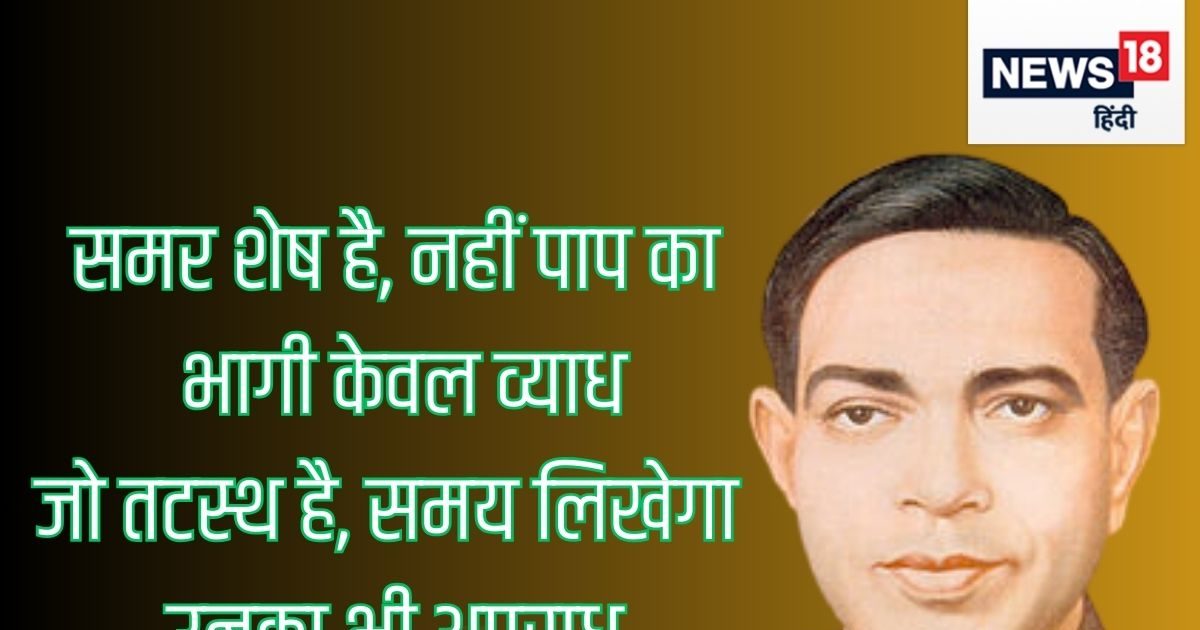 Ramdhari Singh Dinkar: In Ramdhari Singh Dinkar's poetry, the vibrancy of the language, the call to society and the nation, the spread of thought do not affect any particular period, rather his works are contemporary and relevant as evolution though timeless. Social and political civilization.
Independence has been achieved, but where will this pride come from?
Hungry! Panic to sell or eat?
Freedom is not bread, but there is no enmity between the two,
But freedom is of no use if hunger becomes desperate.
Betrayers of liberty stand everywhere,
who rejoins the animals by showing them bread.
Bubuksu how long can be under the influence of their magic?
Who has, can people live in the fire of his stomach? Will this sacrifice endure?
Will he be able to bear the pangs of hunger? If calamity strikes, will he be able to chew grass like Pratap?
It is important not only to get freedom, but also to maintain it.
The sacrifice was not made only once, he had to do it again and again.
Kumkum? Who should I plaster? Who will sing this soft song?
Hungry India is floating before our eyes
*O you who descend on the colorful waves of flowers, O inhabitants of the city of silk!
Oh the image addict
The situation in the whole country is settled, there is a situation in Delhi, there is light in Delhi,
Darkness in rest of India
Born on September 23, 1908 in Simaria village in Begusarai district of Bihar, Ramdhari Singh Dinkar, renowned as a national poet, received his primary education in the village. After passing his matriculation from Mokama Ghat High School, he obtained BA Honors degree in History from Patna University in 1932. After completing his BA Hons, he was appointed as the Headmaster of a school. A few days later, in 1934, he accepted the post of Sub Registrar under the Government of Bihar and held the post for about 9 years. During this period, the impact of his intellectual acuity and emotional intensity emerged in his writings, deepening his understanding of the pain and inequality of rural Bihar.
While Agaya considered Ramdhari Singh Dinkar to be a stage poet and refused to publish his works.
After independence in 1947, he came to Muzaffarpur after being appointed as Professor and Head of Department of Hindi at Bihar University. When India's first Parliament was formed in 1952, he was elected a member of the Rajya Sabha and moved to Delhi. After 12 years as a Member of Parliament, he was appointed the Vice-Chancellor of Bhagalpur University from 1964 to 1965. But after just one year in 1965, he was appointed as Hindi Adviser to the Government of India. And once he returned to Delhi.
From the early days of Ramdhari Singh Dinkar's creative career, a trend began to emerge in his writing and some of his compositions such as "Renuka", "Hungkar" and "Rasbanti" were published. It didn't take long for the British supporters to realize that they had made a part of their regime of a man who was far from disguise. This is why the government started preparing the day tax file. Each conversation will call for warnings and issue warnings. Transferred 22 times in 4 years.
Dinkar's style of poetry
Ramdhari Singhar Dinkar, who spoke with direct intensity about the fantasy of shadowism, over-emotionalism, romanticism and the liberation of the society rather than the liberation of the individual, did not get the title of National Poet. All Dinkar's poems are an inspiration for national progress and awakening. In poems like "Kurukshetra", "Hungkar" and "Renuka" Dinkar's national love is consciously intensified. The combination of patriotism and social consciousness has emerged in his poetry in such a way that the common man's voice has been a flag bearer against the dictatorial forces since the British period till today. All associate themselves with the powerful voice of Dinkar's poetry and the spirit of the flame of freedom remains today like the reddening of iron melting into a loud voice to challenge the autocratic power.
Ramdhari Singh Dinkar is known as the poet of revolution and he is the singer of public sentiments. After Bhushan, Dinkar's identity as a poet of heroic spirit in the modern era is due to his highly conscious representation of national consciousness in his poetry. It reflects the pathetic condition of India at the time of creation of 'Kurukshetra'. Grandfather Bhishma said to Dharmaraja-
Wipe away the tears and go quickly.
In the forest not in the forest.
Stand many men,
Be the hope in life
Initially, Ramdhari Singh Dinkar wrote some poems in shadowy colours, but as he became familiar with his own voice, his confidence grew in basing his poems on his own poetic experiences.
Dinkar Jayanti: Ramdhari Singh Dinkar visited Calcutta in London and Kashi in Paris during a trip to Europe.
Ramdhari Singh Dinkar has the courage to reflect and criticize his own poetry. He kept checking his poetic composition from time to time. In his poetry, the clarity of the Dwivedi age, with its fascination for the virtues of faith and prasad, expresses a modern and progressive streak. Rambriksha Benipuri wrote about Dinkar – 'Dinkar is currently representing our revolutionary era in poetry. All the heartbreaking moments that a revolutionary has to go through in Dinkar's poetry is a true depiction of it.
Dinkar's creation and philosophy of life
Ramdhari Singh Dinkar's philosophy of life is his own philosophy, inspired by his own experience and established by his own conscience, which is constantly evolving. In Dinkar's poetry we find not only reactionary, democratic and humanist currents, but also a wonderful desire to bring the depth of life to the surface of contemporary issues. Dinkar's progressivism is the result of a social consciousness driven primarily by Indian and national consciousness. Due to his political beliefs, he did not make social and contemporary issues the subject of his poetry, nor did he consider achieving political goals as the goal of poetry. An awareness of political responsibility, faith and principles easily blends into his poetic sensibility.
Despite being a Gandhian and a supporter of non-violence, he says in "Kurukshetra" –
'He who fights only with confidence,
The battle of the flesh is won,
Savagery took up the sword,
Confidence alone does not work.
Community does not lose to the power of yogis in the world.
Ramdhari Singh Dinkar is also known as an opponent of power. Despite this, he had a close relationship with the then Prime Minister Pandit Jawaharlal Nehru. He was awarded the Padma Bhushan by the Government of India. Sahitya Akademi Award for "Sanskriti Char Adhyaya" and Jnanpeeth Award for "Urvashi". Dinkar G was awarded by Sahitya Sansad of Allahabad for "Kurukshetra".
These lines written by him on the occasion of 26th January 1950-
The cool and extinguished ashes of centuries were fragrant.
Crowned with gold, the earth enlivens itself,
Two ways, hear the rolling sound of the chariot of time,
Vacate the throne or the masses will come.
These lines from Dinkar speak of the inconsistencies and pains that came with the process of becoming a republic after independence. Even after independence, the system did not change as per the expectations of the people. Dinkar was also anti-Nehru and was seen expressing his differences with Gandhi, we get an introduction to this sentiment in "Parashuram Ki Pratiksha". That is why today Dinkar's name is known in the country not as a poet, but as a public poet.
In "Parashuram Ki Pratiksha" Dinkar says-
Son of darkness, this bandit could be up to some mischief anywhere.
Attention Gandhi's army stands across the country
Sacrifice even after sacrifice! Follow this gentle fast of love
Tie a rope on both temple and mosque.
There is also a warning to the entire world about the relevance of Dinkar through these lines-
"Summer is still, nay, only the hunter's partner in sin."
"The crimes of those who are neutral will write time."