Sika Maha Yajna…One Lakh Naiveda every day, Akhand Harikirtan also organized, 11 thousand Rudraksha Pooja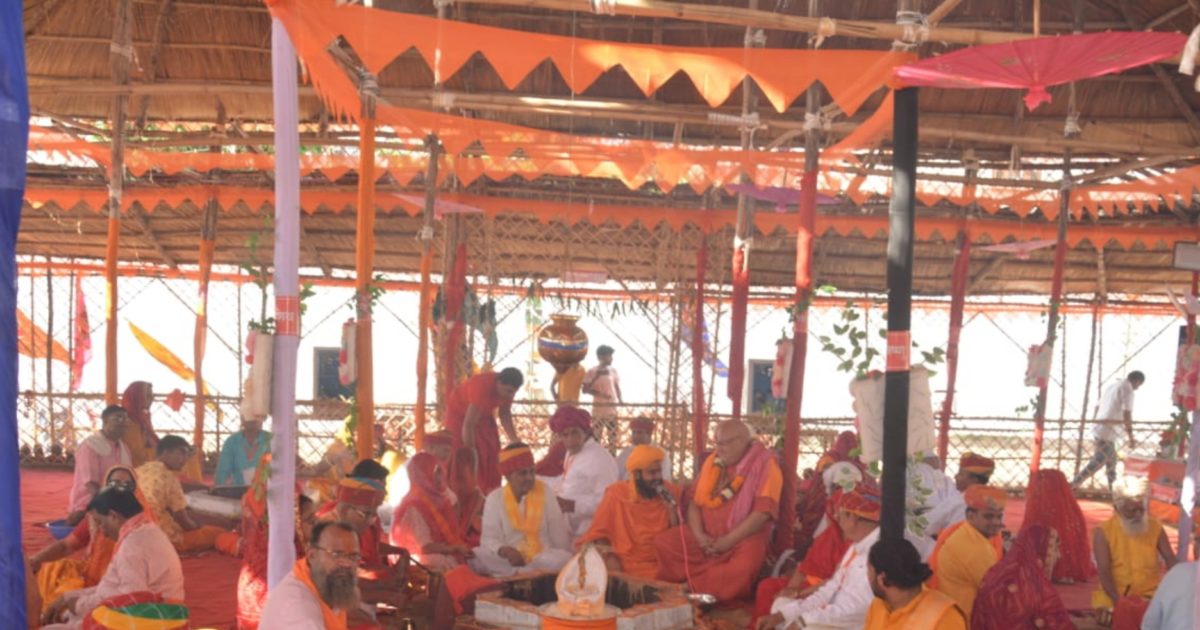 Rahul Manohar/Seeker. The Shree Lakshmi Gausthi Maha Yajna ongoing at the city's Ramlila Maidan begins with the lighting of Arani Manthan. The nine Kundiya Maha Yajnas started with Saints including Peethadhiswara Chandradas Maharaj of Sri Karni Gopal Gau Dham Palwas and will continue till September 28. Hanuman Singh Palwas, co-convener of the organizing committee, said that during this time cow servant Sadhvi Kapila Didi continued to tell the story of the cow. Sadhvi Kapila Didi told the cow devotees present about the glory of the cow.
At that time, Sadhvi Kapila Didi said, circumambulating the cow gives the virtue of circumambulating thirty-three types of gods. By serving the mother cow, people get the four sadhanas of religion, wealth, karma and moksha. Mother cow protects nature and environment. Serving havan with cow ghee purifies the environment. Encouraging maternal strength through cow service, he said, children behave according to the values ​​that a mother imparts to her children at home. The price of the cow's service should be paid to the mother of the children.
Thousands of people listen to the story
At this time, he appealed to cow devotees to remove cow grass from their diet. Gaukatha was accompanied by many saints including Mahamandaleshwar Manohardas Maharaj of Jaipur, Garu Bhakta Prakash of Surat and Amardas Maharaj of Raghunathgarh. Thousands of men and women from nearby areas including Sikar district listen to the story of the cow.
One lakh will be offered daily in the Mahayajna.
Convener of the organizing committee, Shankar Bharti, said that one lakh cow mantras and Lakshmi mantras will be offered daily in 9 Kundiya Goupushti Mahayagnas along with saints. Apart from this, Akhand Ramayana reading, Akhand Bhagavata Parayana reading, Akhand Harikirtan, Puja of 11 thousand Rudraksha and Swalakshya Mahamrityunjaya Japa will also be done regularly. The message of mother cow service is also being given through live mother cows and calves.