The Congress had compulsorily supported the Women's Reservation Bill, Smriti told News18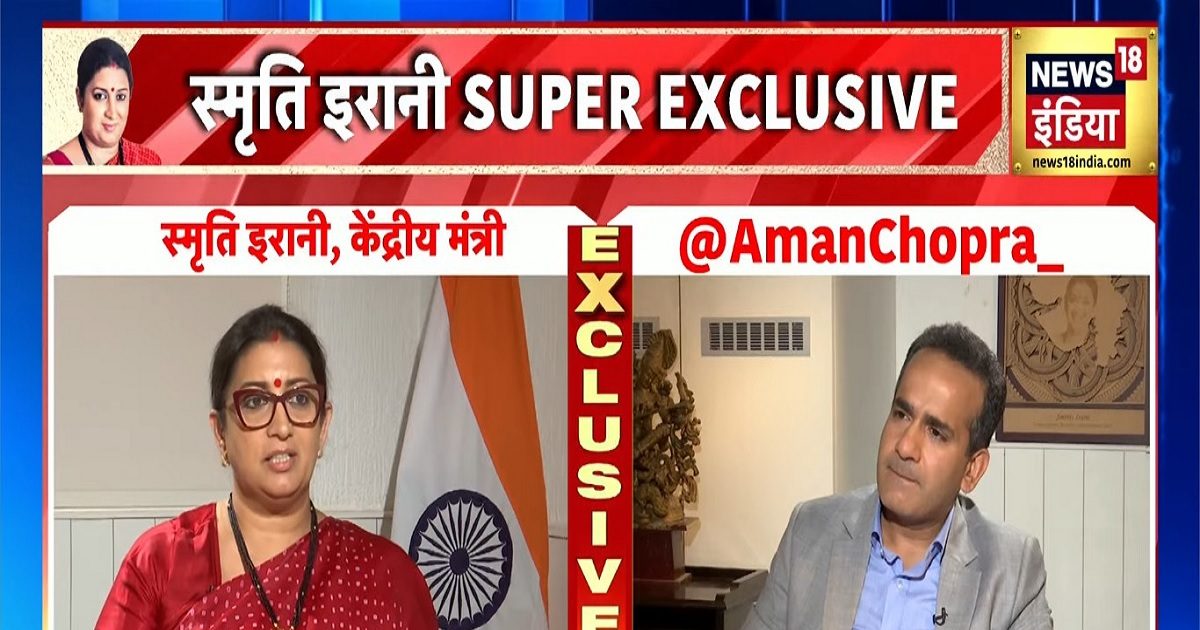 New Delhi: After the Women's Reservation Bill was passed in Parliament, Union Minister Smriti Irani told News18 India in her first interview that the Congress had supported the Women's Reservation Bill compulsorily. He said that this bill was our resolution, but considering the present situation, the Congress was forced to support it. In an exclusive conversation with News18 India, Smriti Irani said that under Narendra Modi's government, when every color and struggle in a woman's life is resolved, we will see Diwali-Holi every day.
Smriti Irani said, some people have a misconception that the issue of women's reservation is two-three decades old. If you read the history of our constitution makers, some women demanded this reservation even at that time, because they realized that the political path for women would become difficult in the coming years. Why passed only in the special session? On this question, Smriti Irani said, we have to build the system and it will take a lot of time.
Why did the country have to wait so long? Responding to this question, Smriti Irani said, the scene you saw in the Rajya Sabha yesterday was our proposal, it is the obligation of the Congress. That's the difference in giving consent. Talking about the 2008 bill, at that time Congress allies left us, but Bharatiya Janata Party supported Congress despite being in the opposition because we had a clear strategy on the Women's Reservation Bill and our intentions were also clear. The question arises that when the Rajya Sabha, which was tough for the Congress at that time, was passed by the BJP while it was in the opposition, why the Congress could not pass it even after having a majority from 2010 to 2014. It reflects the real purpose.
Smriti Irani says I was shocked when Soniaji said it was our bill. He liked himself so much that when it came time for voting and introductions he was not present himself. He is older than me, so within limits. Listening to her speech two things become clear in her speech – Rajiv Gandhi ji tried but failed, these are Sonia ji's own words. Secondly, Congress representatives have repeatedly said that the 73rd and 74th amendments were brought by Rajiv Ji, which is not true, as Sonia Gandhi herself admitted that it was the contribution of PV Narasimha Rao.
How did RJD-SP support you? On this question, Smriti Irani further said that it was our resolution and it was the obligation of the opposition, because in the last 9 years if you see the system of the country, the social thinking, there has been a huge change. Congress allies used to make lewd comments about women and Congress didn't like it either. Our Lok Sabha Speaker was asking everyone whether this bill should be introduced, every BJP and NDA MP was saying yes, but Congress and its allies were silent. They understand that if you stand against women today, the country will stand against you. Their obligation was to support this bill. Support is not given happily.
Smriti Irani challenge in Congress
Attacking Rahul Gandhi, Smriti Irani said that Rahul Gandhi was cooking mutton with those who opposed the Women's Reservation Bill. Demanding the inclusion of OBCs in the Women's Reservation Bill, he said the Congress had insulted an OBC Prime Minister for 9 years. Outside his mother's house in Gujarat, Congress workers used to make lewd comments. If the Congress has the guts to declare Rahul Gandhi as its Prime Ministerial candidate, show it.