This unique plant is found from Kashmir to Bhutan! Flower blooms only once in 12 years, know its specialty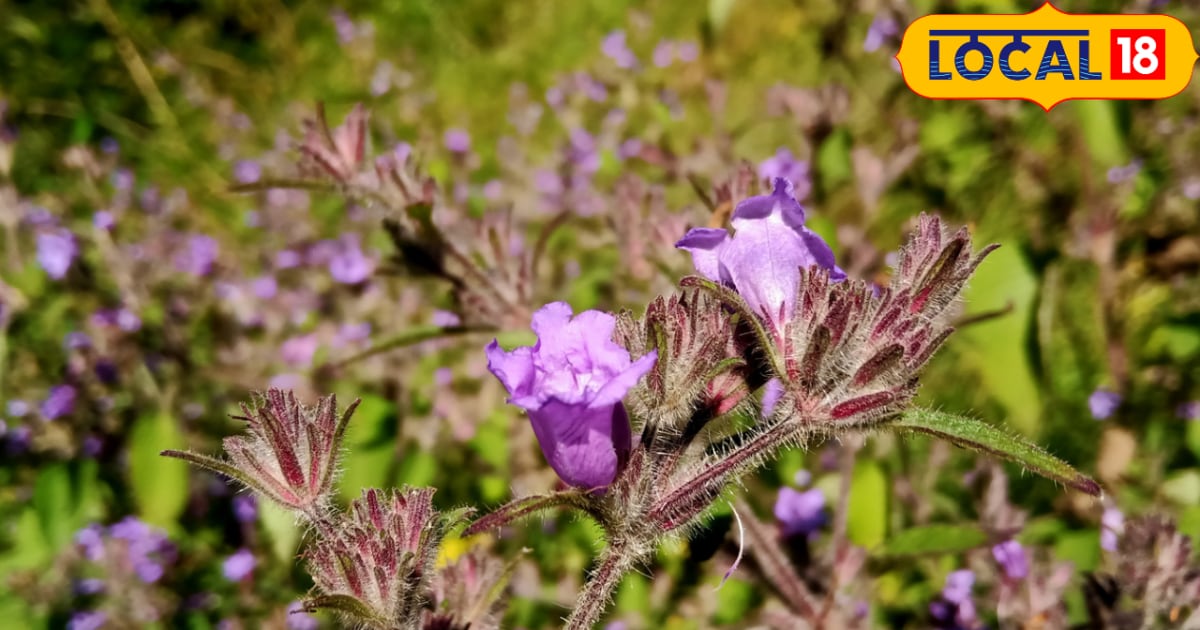 Tanuj Pandey, Nainital. These days, the hills of Uttarakhand's Nainital are blooming with nature's wonder, purple jontila flowers. Due to which purple flowers have bloomed in Nainital and its surrounding forests. In the local language it is called Jontila or Jaunila. When this flower blooms every 12 years, a festival is celebrated in Chaundas Valley of Pithoragarh district. It is called Kandali festival. Another name of Jaunila is Kandali. Found on the southern slopes of the mid-altitude region of the Himalayas, this purple flower grows on the steep slopes of the mountains. Its botanical name is Acimenthera gossypina. In local language it is called Kandali or Jontila. It blooms for more than 12 years in different cycles. Its plant is 1.5 to 2 meters tall and its stem is white in color.
Jontila or A. Gossipina blooms once every 12 years. It is found from Kashmir Himalayas to Bhutan. Its roots are used to treat diarrhea and the local community of Dundee has been using it to make ropes and nets. It grows at an altitude of 5,000 to 7,500 feet above sea level.
It was discovered in 1975
Renowned photographer and environmentalist Padmashri Anup Sah discovered this flower blooming at different times in different areas of Nainital and captured its 5 chakras on his camera. Anup Sah said that he discovered the first cycle of this flower near Nainital in 1975. Since then he has discovered a total of 5 chakras in Nainital and its surrounding forests. where he discovered Pancham Chakra in Narayana Nagar near Nainital and in the jungles of Baldiakhan. He said that in the year when jontila grows, a lot of honey is produced.
Ranibag will bloom after 4 years
Anup Sah said, Jontila grew in different cycles at different times over a period of 12 years. After four years, Jontila will grow in the second cycle at an altitude of less than 5000 meters in Ranibag, Do Gaon, Ghatgarh, near Mangoli near Nainital. Nowadays, Jantila is found in Nainital and its surrounding hills at an altitude of 5000 to 7500 m.
What month does zontilla bloom?
Anup Sah said, this flower blooms from August to the end of September. It produces seeds in the last days of September. By November it dries up and its seeds fall, from which small plants grow again and flower again at 12-year intervals.
Differences between Zontilla and Strabilanthus
Anup Sah said that plants of the same family, Terracanthus or Strabilanthus, are also found in shady and moist places at higher altitudes around Nainital. These are north-facing flowers, which grow every year. Many times people get confused between these two plants although there are many differences between them. Zontilla blooms once in 12 years, strabilanthus plants bloom every year. Its plants are smaller than Jontila plants and the leaves also differ.