When AI anchor Anjali asked Chief Minister Shivraj on the stage of News18, she got this reply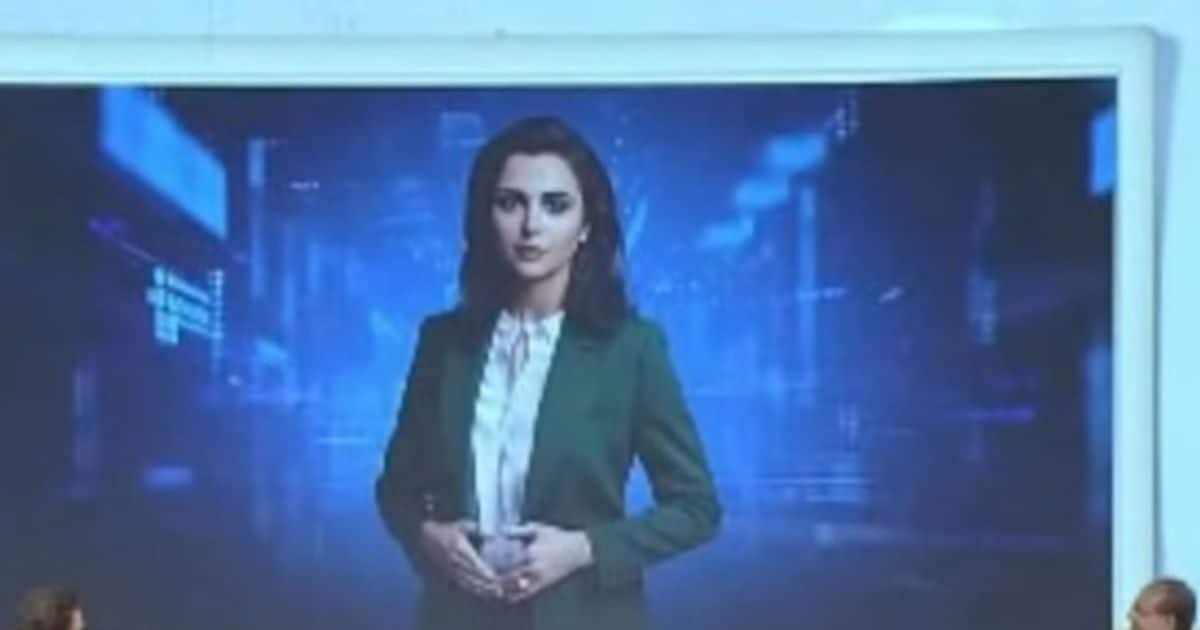 Bhopal. News18's leadership summit 'Rising Madhya Pradesh' on the development of the state was organized on Saturday ahead of the upcoming assembly elections in Madhya Pradesh. Chief Minister Shivraj Singh Chouhan and many prominent politicians, social workers, personalities from the fields of culture and art participated in this grand platform. On the occasion, Chief Minister Shivraj boldly answered all the questions related to politics, society and culture of the state. During the event, the Chief Minister also answered questions from AI anchor Anjali of News 18 Madhya Pradesh-Chhattisgarh.
CM Shivraj answered two questions asked by the AI ​​anchor on News18's platform. The first question the AI ​​anchor asked the CM was about the adjective 'mother' used for her. AI anchor Anjali asked – you are famous as mother, who called you mother first? In this regard, Shivraj Singh Chauhan said, I used to see discrimination against girls. I created the Ladli Lakshmi scheme, those girls are the first to call Kaka.
Only lotus will bloom in Madhya Pradesh – CM Chauhan
AI anchor Anjali asked Chief Minister Shivraj another question – how will the 'lotus' bloom in such a situation – Padma on one side and Kamal Nath on the other. In this regard, CM Shivraj confidently said that only lotus will bloom in Madhya Pradesh. On the occasion, the Chief Minister candidly answered all the questions asked ahead of the assembly elections in the state. At the same time, when asked about the internal politics of the BJP, he clearly said that there is no difference in the party, everyone is one in the BJP.
CM Chauhan said – Rahul Gandhi is pretending
CM Shivraj Singh Chouhan on Rising MP says Rahul Gandhi is pretending. Let's take a picture with the truck driver. Only one family was glorified in the land. Someone asked Rahul to be a coolie, so he became a coolie. If Priyanka had influence, it would have influenced UP. He who has no power does not declare, Kamal Nath used to cry, saying the treasury is empty. I complete the announcement. In response to a question, CM Chauhan said, we are a little poor. When I became Chief Minister, I got a budget of 21 thousand crore rupees. This year we surpassed that. Now our budget is 3 lakh 14 thousand taka. Going forward, our budget will be 3 lakh 19 thousand crores. It is my resolve that I will give 3,000 rupees to dear sisters. It is not Rewari. Kamalnath stopped the scheme, give money to mother to increase the nutritional level of children, if the sister is strong, the sister does not abuse the money. The Kamal Nath government turned the Ballabh Bhavan into a hideout for brokers. 280 crore was recovered from his close relatives. I heartily welcome the Women's Reservation Bill It was passed and became law due to the strong will of Prime Minister Modi. Congratulations to Modiji.
Congress insulted OBC-Chief Minister
Rahul said, 3 out of 90 secretaries are OBC? In this regard, CM Chauhan said, we are people who believe in social harmony. They see it according to the vote bank, Congress should say how many MPs OBCs have made Chief Ministers. Congress did not allow Subhash Yadav to become Chief Minister. Our government has grown stronger in 18 years. Kamal Nath, come with me and see, I don't run the government, I run the family, I love the people too. Our journey is a journey of blessings. Congressmen went on a protest march. Anger is visible among the Congress leaders themselves. Where is the conflict visible here? Why is Digvijay missing from Akrosh Yatra poster? I love everyone who comes. 'Parties are changing in the state, 40 BJP leaders have joined the Congress? To this question, the Chief Minister said that when it rains, some garbage gets washed away. The most popular leader, Modi ji is God's gift to India, we all stand behind him. Jyotiraditya Scindia is an excellent leader, we have got a good leader. His arrival will be beneficial. Digvijay sees everyone as him, here everyone is a leader, everyone is a worker. All are respected, human dignity is equal for all. My government has been a BJP government for 18 years. What was the riot during the Congress government? Not a single riot has happened here, making Madhya Pradesh an island of peace. Our government is gentler than a flower to gentlemen and harsher than lightning to the wicked. We have eradicated robbers from the state. SIMI network is over.
Bulldozer is only used on mafias- CM
Chief Minister Shivraj Singh Chouhan said that my bulldozer was used on mafia and miscreants. I was still here when Daku died in 2006. I love everyone, I will not leave anyone who does wrong. Common man is God for us. He said, I don't know which four parties there are in BJP. No factions, Shivraj Maharaj, all are one. Regarding the Mahakal Loke Murthy, CM Shivraj Singh Chouhan said that with 1.5 to 2 lakh people coming to Ujjain every day, the economy of Ujjain has changed. A statue fell in the storm. This politics is bad politics. I agree that earlier there was no such bitterness among the leaders, now people have started attacking below the waist for political gain. On the question of AAP party, Chief Minister said, I only read newspaper. What is the state of Punjab today, UP party and Congress have brought it to the brink of destruction. The country is with BJP. Regarding India-India dispute, CM Chauhan said, what is the problem in this. We have been saying Bharat Mata ki Jai for many years. Don't compare them with the country. This was their trivial mentality, changing the name does not change the character, the real appearance does not change, these people wear masks.
Quick round with CM Shivraj
AI Anchor Question – You are famous as Ma, who called you Ma first?
Chief Minister Shivraj Singh Chouhan- I used to see discrimination against girls. Ladli Lakshmi Yojana. Those daughters were the first to say, uncle. AI anchor's question – lotus on one side, Kamal Nath on the other, Chief Minister Shivraj Singh Chouhan – only lotus will bloom. How many seats will the Chief Minister go to the people? I claim that BJP will achieve the most spectacular victory till date, I will not give the numbers, but it will be the biggest victory.