Why did Rahul Gandhi say that 'Congress regrets that…' supporting the Women's Reservation Bill?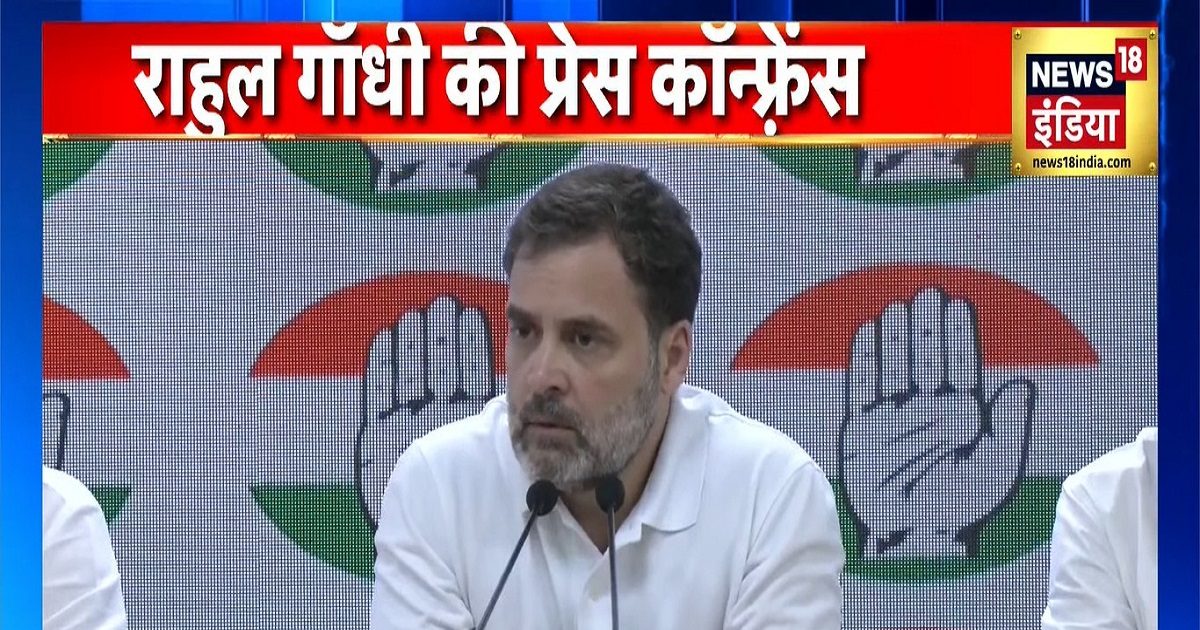 New Delhi: Congress leader Rahul Gandhi held a press conference on the Women's Reservation Bill on Friday and said that the Congress party fully supports it, but the government should remove the census and restrictions on women's participation. Not only this, Rahul Gandhi also expressed regret over the 2010 Bill. Rahul Gandhi on Friday hit out at the central government over the Women's Reservation Bill and demanded the removal of two categories of census and restrictive practices — conditions for the law's implementation. He said his party fully supports the bill but challenged the government to remove the clauses and implement the bill immediately.
At a press conference at the Congress headquarters in New Delhi, Rahul Gandhi said, 'The Bharatiya Janata Party held a special session in Parliament with much fanfare, we moved from the old to the new Parliament building… Prime Minister Modi took the Constitution. Dramatic display….and claims they are passing a very important piece of legislation…but there are two problems. Rahul Gandhi highlighted that the seat reservation bill in Parliament and state assemblies would be delayed by a decade due to census and delimitation and blamed the BJP's move on 'avoiding the census issue'. ' Accepted.
Angry at BJP MP Ramesh Vidhuri's behavior, Lok Sabha Speaker Om Birla issued a stern warning, saying 'stern action' will be taken if he does it again.
When asked about the Women's Reservation Bill of 2010, which was passed in the Rajya Sabha but failed in the Lok Sabha due to demands for a separate OBC quota for women, Rahul Gandhi said, 'We have 100 per cent approval of this decision. It's a pity… we also created a census caste. Even if we didn't release then for some reason, we should release now. Rahul Gandhi said, 'When I was researching for my Parliament speech, I saw how many secretaries were from Other Backward Classes, Scheduled Castes and Scheduled Tribes… I was surprised to know that out of 90 only three secretaries were OBCs.' Do we want this kind of representation for a community that may constitute up to 50% of the population, he asked?
'Why is the census delayed?'
Former Congress chief Rahul Gandhi emphasized that we need data to be able to properly distribute power to common people. He said, why PM is not releasing previous statistics and why is there delay in census?… PM calls himself OBC leader, then why only 3 secretaries are OBC? He also said that I just asked this question that OBC population in India is 5%? If not, how many OBCs are there in India and should they participate? BJP should remove the census and demarcation and allow women to participate. The information we have collected about the census should be made public so that everyone knows how many OBCs there are and can conduct a new caste-based census.
Rahul Gandhi's question to the government
At the start of the PC, Rahul Gandhi said, 'The Women's Reservation Bill was brought in the House. The bill is found to be related to two issues, one of which will be census before reservation of women and the other will be limitation and both will take many years to do. Women reservation can be done today but the government does not want to do it. The truth is that it will be effective 10 years from today. Diverting from the OBC census, I spoke about only one body in the Parliament, which is run by the Government of India, the Cabinet Secretary and all the other Secretaries, I asked a question on this if the Prime Minister does so much work? So why only 3 out of 90 are from OBC community… OBC officers control 5% of India's budget. Prime Minister talks about OBCs everyday but what has he done for OBCs?